The Hungarian
Coronation Jewels
THE SWORD - Coronation Jewel

The sword is the symbol of the defense of the country. Its role was that after the king was crowned, he rode on his horse to the top of the coronation hill and made four strikes with it toward the four points of the compass. This was the traditional sign that he will defend the country from attacks should it come from any direction. The original sword of Saint Stephen I. was lost, however, they store a viking sword in the Saint Vid cathedral in Prague since the 14th century, and an inventory made in 1368 called it the sword of Saint Stephen. The present sword was made in the 16th century, probably in Venice. It has a double-edged blade and a renaissance ornament at its hilt with a curved cross metal and a knobbed end. The scabbard is covered with red velvet and has belts for the king to attach it to his waist.


On next page:

6. The Hand Relic
The Coronation of St.Stephen
On St Stephen´s request, Sylvester II. the Pope, sent to Hungary, Stephen's emissary bearing, the gifts of a crown and an Apostolic cross, which jointly standed of Stephen's royal dignity and status and of his authority, to establish a national church, be baptised as a King & form the Hungarian state. The coronation and unction took place on Christmas Day, A.D. 1000.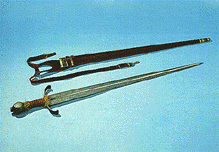 St Stephen (was proclaimed Saint in 1083), is known as the best-beloved, most famous and perhaps the most important figure in Hungarian history, and largely through his personal genius, the country was funded.