The Hungarian
Coronation Jewels
The Hand Relic of King St. Stephen I.

The hand-relic of the first Hungarian Christian king Saint Stephen I. (1000-1038) which is kept in great reverence by the Hungarians. Saint Stephen I. accomplished the historic mission to turn to Christianity the pagan Hungarian tribes who arrived in Transylvania in 896 A.D. and to establish the Hungarian state. In this way, the new Christian Hungarian state could well fit in the community of the other Christian kingdoms of Europe and Saint Stephen I., by turning his nation to Christians, ensured the future of Hungary for the next one thousand years. For this huge achievement, he received the title "apostolic king" and he was canonized in 1083, which was initiated by king Saint Laszlo I who was himself canonized, too.

As part of the canonization process, on August 20. 1083 (the day of Stephen in the christian world), the remains of king Saint Stephen I. were elevated from the crypt of the coronation cathedral in Szekesfehervar and the entire right arm was removed from the body and prepared for preservation.


On next page:

1. St Stephen Holy Crown
The Holy Right Hand of St.Stephen
King Saint Laszlo I. appointed an abbott called Mercurius, who was responsible for the inventory keeping of the treasury of the cathedral, to store up the Holy Right Hand of Saint Stephen I. at his private mansion in county Bihar. Later they built an abbey at Mercurius' land to keep the Holy Right Hand which became a pilgrimage site later, and throughout the years a town erected in its neighbourhood which was also called Holy Right.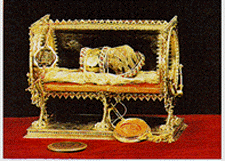 In the late 11th century, Hungarian king Kalman the Booklover attached a little parchment plate to the Holy Right Hand with latin words on it: "The right hand of blessed king Stephen, glorious confessor".